Climate News Roundup
Had enough of me? Try someone else!
Hello friends! Want to find some good reading on climate? Here are a few links I've been reading over the last month or so.
Electric Cars, and replacement timelines
In my last piece, I wrote about investing in new electric things, specifically, cars. I love hearing from y'all, and got several notes to the affect of "Sure, but isn't keeping my current gas car better than incurring the carbon involved in creating a new electric car?" I looked into this more and have an answer for you!
This means that even if a new EV replaces an existing conventional car, it would still start to cut emissions after less than four years of use compared to continuing to run the older vehicle, as shown in the chart below.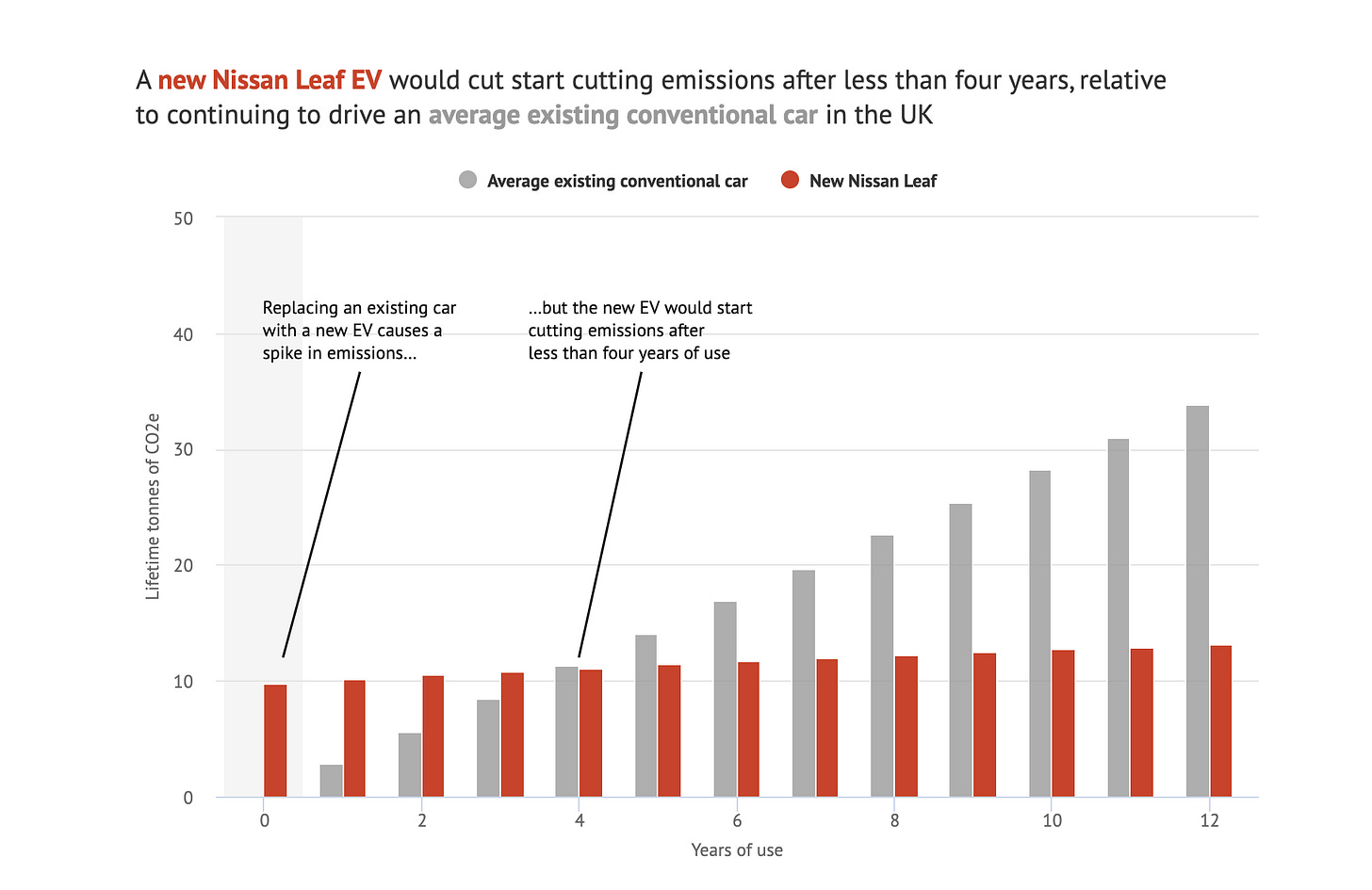 If you're interested in this at all, it's worth reading this piece, which does an exceptional job laying this all out, and has excellent graphics. Interesting to consider this — at present, the cost/benefit tradeoff between traditional versus electric cars is based on the emissions from gasoline vs. the electricity generated from the grid - from natural gas, coal, solar, hydro, nuclear, etc sources. As more renewables come online, the balance will continue to shift in favor of electric cars.
Forests
How stable are forests? As temperatures change, how fast can they adapt? And, how do we support them? Interesting question here that I think isn't getting enough attention, especially because we're using forests as the underpinning for most of the voluntary carbon offset market.
Great piece from The Washington Post here about the Minnesota's North Woods.

"A Washington Post analysis of historical temperature data found that seven counties in Minnesota have warmed more than 2 degrees Celsius since the late 19th century — about twice the global average. Winters here have warmed even faster, with 59 of the state's counties — about two thirds — eclipsing the 2C threshold during the months of December through February."

The challenges of adaptation seem immense, and this quote both rocked me and gave me a glimmer of hope. "The worst-case scenario is if we don't do something like this, we'll have no forest," he said. "Our broad objective is to look at ways to keep forests on the landscape. It may be a different forest. I like to say that it may not be your grandfather's forest, but it will be your grandchildren's forest."

Fascinating look at the marathon undertaking of creating a blight-resistant American Chestnut, and the inherent complexities of balancing forest restoration and concerns about the ramifications of gene-editing.

Last May, the concentration of carbon dioxide in the atmosphere hit, for the first time in human history, 414.8 parts per million. The nonwater weight of the American chestnut, like other trees, is roughly half carbon. Few things you could plant on a piece of land would suck carbon out of the air faster than a growing chestnut tree. With this in mind, an essay last year in The Wall Street Journal suggested, "Let's farm chestnuts again."
The death of coal
Outside of China coal is going to die very quickly. Looking at the graph below reminds me of Hemingway's quote about going broke, "Gradually and then suddenly."
In three points:
Point 1: Coal power generation is plummeting.
EIA's (US Energy Information Administration) forecasts are not to be trusted. They've been wrong in the same direction every year for 10 years. Bonus chart: Below is EIA screwing up PV installation year over year.
Point 2: Coal plants are shutting down ahead of schedule.
Point 3: They're shutting down because they don't make money any more, not, in my opinion, because they pollute or people are politically against them.
Divestment
For those interested in the details of my pessimism about divestment, it's worth reading the thread below. Basically, Harvard says they're going to do the right thing (Progress!), but there is little reason to believe them.
Nevertheless, Shell cutting the dividend (below) should help investors make better decisions, and will likely do more for divestment than any PR campaign possibly could.
Thanks for reading!
Until next time,
Pete