A Framework for Understanding Climate Change 🔗
This has been fun, so let's keep rolling.
I find the deeper I go into practical topics, the harder it is for me to keep track of the big picture. As a visual thinker, I need a metaphorical place to put the information I'm consuming, or I lose it almost immediately (🎵and castles made of sand 🎵). So, I'm building out a framework for my thinking generally, and that framework is the subject of today's newsletter. I suspect this post will get rewritten a lot over the course of the next year.
If you all are the beating heart of this newsletter, and I'm the brain—or probably just mouth—then this is the skeleton.
Current best fit analogy: a basin with lots of faucets and lots of drains. Am I aware this is likely a mediocre analogy? Yes, yes I am. I was going to use a tree analogy which I was enamored with, but it quickly turned into a forest analogy...and that felt less like an analogy and more like a description (in a certain point of this analogy, trees = trees. :-/ )...In any case, we're starting here.
Just think of how proud you'll be when my analogies start making more sense!
So...about this basin. This basin is the part of the world we live in: air, water, all of life as we know it. The liquid in it is carbon dioxide. The faucets release carbon dioxide into the basin, and the drains pull it away into a storage container, which the faucets pull from. My understanding is that, prior to humans, the flows from the drains and faucets were roughly in equilibrium - prone to fluctuation, but generally stable at about 2-3 inches of carbon dioxide in the basin (200-300ppm). That's the natural carbon cycle. For those of you who want to see the carbon cycle visualized, I doth provide: (care of Woods Hole).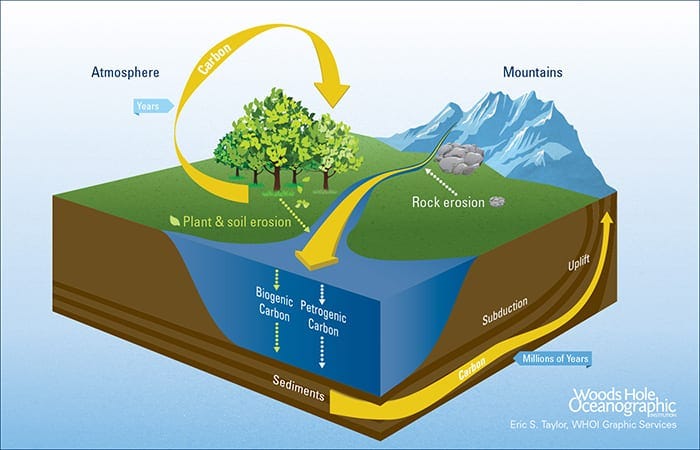 Interesting note here, and relevant to my understanding of climate change: all the extra carbon dioxide in the atmosphere—it's not "unnatural" for that carbon to exist. The thing we're doing is moving it from storage into the atmosphere unnaturally. And, we've done this a LOT, to the tune of 500+ million tons of CO2 since the industrial revolution. So, by moving CO2 from the storage tank to the basin, the level of the basin—or sink or hot tub, you conjure the image—has risen. We raise "the basin" by building new "faucets" and turning them on—power plants, for example.
But, it's not just that. We're also plugging some of the drains: plants take up CO2 and release oxygen, draining the basin. Cutting down a tree = plugging a drain. So, that's where we are now.
Also helpful in this analogy: the level of CO2 in the basin is different from the flow. While obvious, even if we get to net neutral emissions (net flows from faucets and drains = 0) it doesn't mean we return to a lower level of CO2 within the basin.
Outside this analogy: Plenty! From greenhouse gases (methane, refrigerants) to how to think about adaptation and geo-engineering. We'll have to see, in coming weeks.
Forward, nonetheless—progress over perfection.
Here is what I want you to do. When we think, and talk, about progress, and steps we can take, use this frame: are we closing a faucet? Are we unplugging a drain?
With hope!
Pete
P.S.
Comments and notes on Battle of the Blub:
So, I did a more rigorous poking around of my own house. I think we were about 60% LEDs. Culprits? Bathrooms, and fixtures that were small. I am currently hunting down a bulb as narrow as a traditional incandescent. I went to my folks for the holidays and did a little recon as well. I think about 50-70% of the house was LEDs. A surprising number of CFLs - which I didn't expect.
Replace'm all friends.
Extra credit reading for those who want to doubt capitalism and really care about durability, link here. ♥